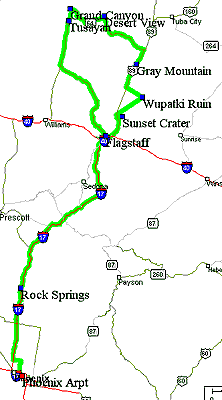 Phoenix Arizona to Grand Canyon National Park South Rim.
Phoenix to Grand Canyon (233 Miles; 4 hrs 20 min)
Overview. I love the 4.5 hour drive from Phoenix to the Grand Canyon. Once north of the urban sprawl that passes for metro Phoenix, the scenery is spectacular: majestic saguaro cacti, open desert, and, as you approach Flagstaff, the towering San Francisco peaks.
Grand Canyon National Park has two entrances: a Southern Entrance, just north of Tusayan, and an Eastern Entrance, a few miles East of Desert View. This makes it possible to explore a lot of scenery.
I recommend planning your travel so you arrive via one entrance and exit via the other. For a practical and nostalgic reasons, I prefer to enter via the Southern Entrance Station, and exit via the Eastern Entrance Station. The Southern Entrance station puts you closer to most of the hotels, restaurants, Babbett's largest General Store, and the Backcountry Reservations Office. If sightseeing is your primary objective, this puts you closer to the sights at the Western end of the park. Visit these first. Plan to explore the Eastern vistas on your way out of the park.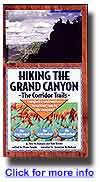 From Phoenix to Flagstaff. Follow the Signs for I-10/I-17 North. At the I-10/I-17 split, take I-17 North.
The Rock Springs Cafe, about an hour North of Phoenix, is a great place to stop, stretch your legs, and grab a great meal. The Cafe has lots of character and great pies!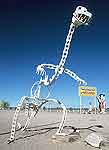 Dino landmark at Valle, Az.

After about 145 miles you reach Flagstaff (and the end of I-17). Take the exit for Route 89.

From Flagstaff to the Grand Canyon's Southern Entrance Station.

Follow Route 89 North through Flagstaff until you reach the Route 180 turnoff (about 2 miles). This will be a left hand turn, so be prepared. Follow Route 180 to Valle, AZ, home of Bedrock city, and this scary dinosaur. Turn Right (North) onto Rt 180/64. After about 75 miles, you will come to Tusayan, AZ. Tusayan features multiple hotels.

Grand Canyon National Park entrance is about 5 miles beyond Tusayan.