Be Steady! Hold that camera rock steady with two hands. A firm grip will reduce blurred photos due to camera movement. My hiking staff doubles as a monopod. This arrangement saves weight and helps deliver extra sharp on-trail photos at a moment's notice. Even better, use a tripod. I often carry one. Yes, I'm also of questionable mental stability.
Film: Pack Plenty. For prints, stock up on ISO 400 film. To my eye, there's nothing more satisfying than a well exposed slide. I highly recommend either Fujichrome Velvia (RVP) or Provia 100F (RDP-III) for your Grand Canyon photos. Both yield super color and sharpness. Kodak EBX (Elite Chrome Extra) is also a strong candidate. Digital shooters, make sure you pack an extra memory card or two. Bring spare batteries, too.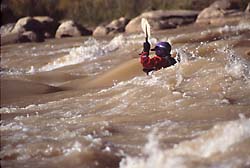 Tanner Rapids is an exciting place to watch river runners in action.
Keep that Camera Handy! Keep your camera within easy reach for quick access along the trail. My camera travels in a special case that attaches to the waist belt of my pack.
Protect that Camera. Fine camera ruining dust abounds at the Grand Canyon. Dust storms are common. Keep a pair of zip lock bags handy at all times. If a dust storm picks up, double-bag your camera fast!
Protect Your Film. Extreme desert heat can damage film. During the hot months, keep film buried inside your pack. If possible, wrap it in a shirt or other fabric item to insulate the film from the heat.
Use a Polarizing Filter. A polarizing filter is your secret weapon for reducing glare and getting ink blue skies. The canyon colors much richer, too. If your camera accepts accessory filters, invest in a good quality polarizing filter. Your photos will really look great!