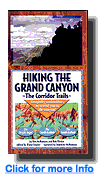 First, request a Grand Canyon Backcountry Permit Reservation Form. To get a permit form you can do one of three things:
1. Mail a request to the Backcountry Office:

Backcountry Office
PO Box 129
Grand Canyon, AZ 86023

2. FAX your Backcountry Permit form request to the Backcountry Office at 928-638-2125. OR

3. Download a Backcountry Permit Request form in PDF format.
(Need Acrobat Reader? It's free. Get it HERE.)
Second, complete the permit request form. Be aware that demand for Grand Canyon Backcountry Permits is enormous. You need to know Grand Canyon use areas to complete the permit application. Use Areas are listed on these maps:
Third, Mail or FAX your completed permit request form, along with the appropriate Backcountry Use Fee, to the Backcountry Office (address above).