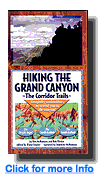 Grand Canyon weather is divided into three zones:
South Rim (about 7000 feet above sea level)
North Rim (about 8000 feet above sea level), and the
Inner Gorge (about 2000 feet above sea level).
The arid South Rim is pleasant, even in the peak of summer. It gets nippy in the winter. The forested North Rim is generally cool in summer and receives so much snow that it is closed during the winter months. Pleasant summer temperatures on the rims give no clue of the inferno atmosphere of the inner gorge. Inner Gorge temperatures are generally 20 to 25 deg F warmer than those experienced at the North or South Rim. Elevation differences create this temperature variation.
What's the inner gorge like in the summer? Try this: Preheat your oven to 500 deg F. Open the door to let the wave of heat envelope you. Stand there. Keep standing there. Imagine you can't close the door. Imagine that heat is every where you turn. There's no escape. There's no shade. Even the night radiates relentless heat. That's the Inner Gorge Grand Canyon in the summer. Is your body prepared for that? Are you prepared for that?

Desert adaptation. Just as body physiology adapts to altitude, your body adapts to desert conditions. Your body learns how to use fluids more effectively. Your body learns how to sweat more effectively. Desert adaptation takes about two weeks.
How does your body react to desert conditions? You must learn how your body reacts to desert conditions. This includes leaning the warning signals of heat exhaustion and heat stroke. The Grand Canyon is unique in that within a few hours your concerns can shift from the possibility of heat stroke to the possibility of hypothermia. Even experienced Grand Canyon hikers get into trouble, as this story illustrates.

Manage fluid intake. Dehydration is a Grand Canyon hiker's biggest threat. Dehydration-related maladies are the most common factors leading to hiker death or disability in the canyon.
You must learn how to manage fluid intake so you stay hydrated. If hiking in the peak of the summer swelter, your body may require more than one gallon of water each hour. At about 8 pounds per gallon, the distance you can hike is quickly limited by the amount of water you can carry. Water sources in the Grand Canyon are few and far between.
So, What's the Best Time of Year to Hike the Grand Canyon?
DO:

Hike below the rim during the Canyon's Temperate Months (October through April).

DON'T

hike to the Inner Gorge during the Danger Months. Stay near the cooler rims.
The Temperate Months
If possible, plan to hike the Grand Canyon during October, November, and April, when weather is about as close to ideal as you can get in the Canyon. Temperatures on the rim and within the inner gorge are moderate. Precipitation is minimal.
The Grand Canyon's Temperate Months
South Rim
North Rim
Inner Gorge
Max
Min
Precip
Max
Min
Precip
Max
Min
Precip
October
65
36
1.1
59
31
1.38
84
58
0.65
November
52
27
0.94
56
24
1.48
68
46
0.43
December
43
20
1.62
40
20
2.83
57
37
0.87
January
41
18
1.32
37
16
3.17
56
36
0.68
February
45
21
1.55
39
18
3.22
62
42
0.75
March
51
25
1.38
44
21
2.63
71
48
0.79
April
60
32
0.93
53
29
1.73
82
56
0.47

---

Note

:

Blue

indicates a month in which the average minimum temperature is 30 deg F or less.

Green

indicates a month in which average monthly precipitation is 2 inches or greater.
Inner Gorge temperatures in December through March are also very pleasant. Yet, be aware that snow and ice are likely near the rim November through February. Snow can obscure the trail. Ice can make hiking very treacherous. Pack instep crampons if you hike during these months.
Hiking from the warm inner gorge to the cool rim is a fine recipe for hypothermia. Make sure you stay hydrated, eat frequently, and adjust your clothing frequently when climbing out. Be especially vigilant when you stop for a break. Sweat soaked clothing can yield rapid chill and possible hypothermia.