I get up well before dawn on our last day below the rim and make my way out to the west arm. Gary thinks I am nuts, but I go anyway because I want to take sunrise pictures and I also want to look for a cave that Harvey Butchart mentioned in his "Grand Canyon Treks" series. According to Harvey, there is a faint track leading from the main trail over the west arm of the mesa to a cave someplace just below the rim. That is about as specific as the book gets about it's location. Yesterday I saw a spot where it might be, so I want this chance to check it out because for all I know, I may not ever return to this particular area.
I enjoy the sunrise in solitude and photograph the shrines, temples, and buttes that we saw in quite a different light the evening before. Once the sun is fully up, I head in the direction of camp, with the detour to where I think the cave might be. To get there requires a very short scramble down off the rock abutment where the trail is onto a sloping ledge. Three or four steps to my west is the shortcut to Cottonwood Creek. Taking those steps can get me to the bottom of the canyon in a matter of seconds rather than the hour or so it took three days before. The slope is not all that narrow, but the rock and dirt on it are loose and crumbly, and just the thought of starting a slide I can't stop makes me a little queasy. Because the edge is the edge and it's not a gradual dropoff--it's straight down. The cave isn't there anyway so I climb back up onto the trail and hoof it back to the campsite. When I get there I discover that somewhere on the way out this morning I have lost my hat, the green(?) one with the white(?) logo that says "Michigan State University Spartans" on it. That hat had made a number of trips to Arches and Canyonlands with me, had been below the rim of the Grand Canyon three separate times, kept the Japanese sun from burning my bald spot on numerous occasions and the Lake Minnetonka sun from doing the same. The reason for the question marks behind the color description is because the true color of the hat after years of wear was filthy and filthier, and I am bummed that it is gone. But then I realize that the way I have thought of that hat for the past couple years is as my Grand Canyon hat, and that if I had to lose it, I couldn't have found a more appropriate final resting place.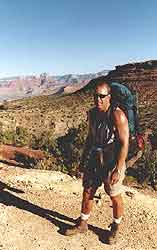 Starting up the Grandview Trail from Horseshoe Mesa
Gary has broken down everything at the campsite, and has his pack all ready to go. We decided before the trip that we would forgo a cooked breakfast on this morning and save the rest of our water for drinking on the way out. So our rations for the hike out are Clif bars and the remainder of our Gookinaid. Rather than watch me load up my pack, Gary tells he will meet me by Berry's cabin and takes off. When I join him there at about 8 a.m. he is just finishing a conversation with some European kids who have come down to the mesa in a group. By the sound of their speech, I take them to be Germans or Swiss. They have told Gary that they left Grandview Point at 5:30 this morning. It is now 8 o'clock. They have to meet their bus back on the rim at 11:30. What is down here that they can see in fifteen minutes?, they have asked. One of them wants to head down the trail into Cottonwood Creek. He has heard there is a river down here somewhere and he wants to see it. Gary has dissuaded him. Down to Cottonwood Creek and back will probably take more than fifteen minutes, he says. Someone over here must have sold these kids a "Grand Canyon Highlights in 10 Minutes" tour. But they will have the last laugh. They have come all the way from Europe, so they will take FIFTEEN minutes and see it ALL!!
At 8:05, Gary and I leave Horseshoe Mesa for the rim. It is a tough hike, although I don't think any walk out of the Canyon would ever be considered easy, no matter what trail it is. But this trail seems harder and steeper to me than the Bright Angel. Entire sections of the Grandview are reinforced, almost paved in a way, with stone slotted into the trail sideways. It reminds much of a cobblestone street. Although it seems contrary to what should be, these sections seem harder on me than than the ordinary rock and packed dirt sections. There are stretches of this slotted stone trail that seem tortuously interminable. At one point it seems like there are a dozen steep, cobbled switchbacks in a row. I plod up the trail to the switchback and turn to see an identical stretch in front of me. I stop and suck wind for a minute or two. I plod up this stretch and turn to see another. Another stop. More wind-sucking. This goes on for one....... switchback.......... after........... another.............. and another.................. and another. Who was it in mythology who was damned to roll a heavy stone up a hill forever? I start to think it was me.
About an hour or a little more into our climb we encounter our first dayhikers. It is a man and woman, probably in their late fifties and they are stolling as nonchalantly down the trail as if they were going to the mall or golf course. That's the way they are dressed, too. Shorts, loafers, and collared shirts. They don't have any water, but it's not real hot today so I figure they'll be OK.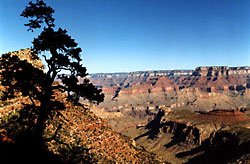 More and more dayhikers are descending as we get closer to the rim and finally I can see Grandview Point and am like a horse smelling the barn. Gary has been ahead of me the whole way, but has stopped a few hundred yards from the rim so that we can top out together. He is talking to a young German couple and has found out that the woman is from a small town very near to where Gary was based as an exchange officer with the Royal Air Force in Germany. When I catch up and get my breath, we continue and reach the rim together. It is the third time I have done this, twice with friends and once solo, and always the feeling is the same. I can only describe it as extreme euphoria. Gary and I exchange high fives and with the last of our water toast each other and the Grand Canyon. The German girl, at our request, takes our cameras and photographs us in the same spot where we had our departure photo taken three days before. Although I felt during the hike that I was plodding along at a snail's pace, it is only 10:35 and we have gone from Horseshoe Mesa to Grandview Point in 2 1/2 hours. I am quite surprised.
A woman with big square sunglasses and a sun visor comes over and says "How far down did you go?" At this moment, I just don't feel like going into a lot of detail about what all we did, so I just say, "All the way." She exclaims, "Oh....you poor, brave people!"
This gets a smile from me, because I don't think I'm all that brave and I know I'm not poor. And that's why I am smiling, because I am feeling grateful that I have the ability to pull off a trip like this and grateful that I have friends to share it with. So as Gary and I trudge to the car I decide that I'm neither brave nor poor, but I sure am happy. And damned lucky.
---
Postscript
I am looking forward to my next Grand Canyon backpack already. I don't know when it will be, but the sooner, the better. Maybe I can finagle something next spring.
One of the things I took away from this trip is that I would definitely like to reduce the total load I am carrying for the next trip. I think I can do this two ways--by reducing my pack weight, and I have different ideas on how to do that, and also my bodyweight. "Hike skinny" as Gary put it. Because I don't think your heart, lungs and legs differentiate between the fat around your waist and the gear strapped to your back. Weight is weight. A neighbor of mine has a unique way of putting this. He says for every 1 pound you are over your ideal weight imagine going to the supermarket and picking a 1 pound package of hamburger out of the cooler and stuffing it down the front of your pants. Not that I am overweight, I'm not. But this past June I was in great shape at 191 and under 7% bodyfat. Now I am over 200 and probably have a bodyfat % in the low teens because of a looser diet. I think that makes a HUGE difference to haul an extra 15-20 pounds with each step over that type of terrain.

As for my pack, I had no idea of how much it weighed before the trip. I wasn't sure I wanted to. But on the trip home I put the duffel bag containing my pack and boots on the scale at the check-in counter and it read 36.5 pounds, which was less than I expected, but of course that was without food, water, and stove (which I mailed home). So the pre-trip project for next time is to trim that pack weight somewhat, and to go in great shape.

One weird aftermath to this trip was that I had exposed six rolls of film during the four days. When I got home it was missing. After searching through my stuff for it and calling the hotel in Phoenix and rental car agency at least three times apiece, I gave it up for lost. Six days later, I found it in the basement in one of my boots inside the duffel bag. I have no memory of putting it in there. If I can get some of the pictures scanned later, and think any are worthy, I will post a couple in this forum's library.

I apologize if some consider this report somewhat wordy, but on the other hand, if you have read this far I assume it's because you have been interested, or else extremely bored with nothing better to do! Whatever the case, thanks for reading it.
--JK